Small and Home Office Cybersecurity
Get online protection you can trust from one of the leaders in cybersecurity. Choose the level of protection that works best for your business.
Compare our security products

Avast Small Office Protection


Avast Essential Business Security

24/7 protection that you can set and forget.
The easy way to monitor and manage protection across your company devices.
Get award-winning antivirus to protect all your PCs and Mac computers against malware, phishing, ransomware, and other advanced cyberthreats.
Protect your personal, business, and customer data from theft.
24/5 English support from our highly trained technical team, who can assist you and your employees via email, chat, or phone.
Safeguard your employees' online identities. Includes password and webcam protection.
Stop hackers from locking your devices and files and holding you to ransom.
Online management platform
Easily set up your device protection, manage your subscriptions, plus monitor and add devices all from one place — anytime, anywhere.
*Not available for macOS. 30-day money-back guarantee
Get the security you deserve
All businesses deserve to be safe online, regardless of size. Let Avast keep hackers away so that you can focus on growing your business.
Security you can set and forget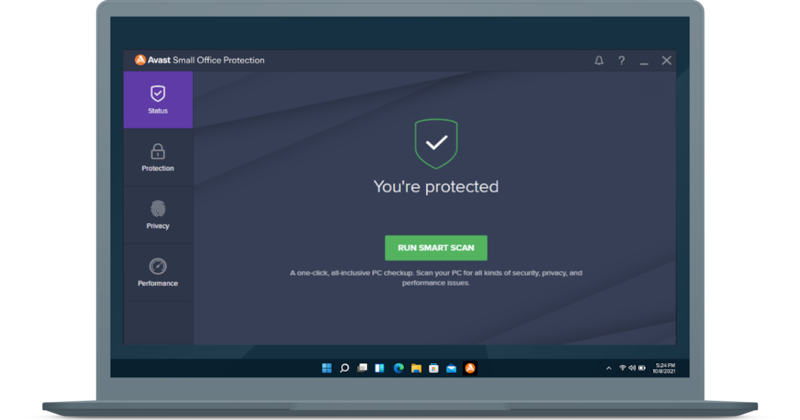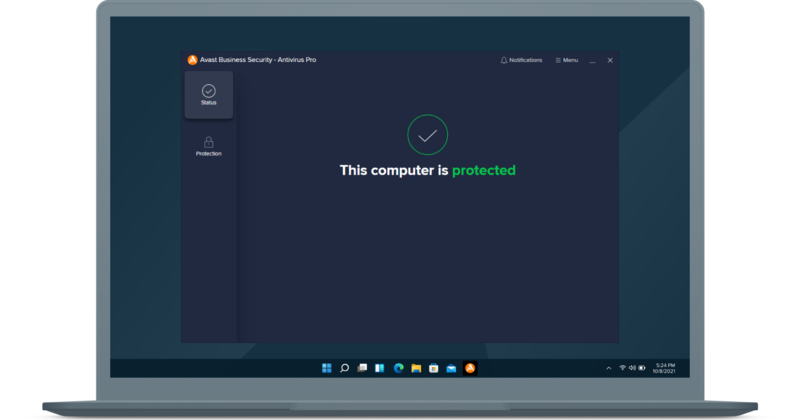 Online protection that grows with your business
I have a small business with just a few computers. Can i install Avast free consumer antivirus on those computers instead?
If you're a business that handles client data and has servers, then you need more than what our free consumer antivirus offers. Avast Business solutions offer advanced security, privacy, and productivity features to give your employees total digital privacy, security, and unparalleled productivity. They also come with an online management platform to provide real-time visibility of threats, comprehensive reporting, and remote management capabilities from a single platform.
Avast free consumer antivirus, Avast One, or Premium Security are intended for private, personal, and non-commercial use only. If you would like to use Avast in a business, commercial, non-profit, or government organization, we recommend trying Avast Business solutions.
For more information, please review our Avast End-User License Agreement (EULA).
How do Avast Business solutions protect businesses against cyberthreats?
All our products include our next-generation antivirus for businesses designed to prevent, search for, detect, and remove malware, and other malicious software (worms, trojans, adware, spyware, and more). We protect millions of businesses worldwide by using the industry's best prevention, detection, blocking capabilities, machine learning, advanced heuristics, advanced anti-exploit, and other Avast proprietary techniques.
To protect users, Avast detects and immediately reports any suspicious files or behavior. This state-of-the-art infrastructure and access to an immense amount of security data gathered from hundreds of millions of devices around the globe gives us one of the largest, most advanced threat detection networks in the world, and lets us provide unrivaled zero-day protection.
Our cutting-edge technology transforms our users into a worldwide network of cooperating sensors. If any one of them encounters malware, Avast uses 6 layers of protection to identify, block, and inform the entire network in a matter of seconds.
Are there any license options for less than 10 devices?
The Avast Small Office Protection license includes up to 10 devices, meaning that you'll be able to use it for however many devices you have as long as it does not exceed 10 devices. At Avast, we know the modern workplace has changed. On average, employees use 2.5 devices to perform their jobs. They tend to use their personal laptops, smartphones, and tablets to stay connected from anywhere. To ensure protection for all devices, our Avast Small Office Protection provides a multi-device subscription to protect up to 10 devices, regardless of platform.
Is it necessary to unistall my previous antivirus before i start using Avast Small Office Protection?
If you already have an Avast Business product without the Business Hub, you do not need to uninstall your current version. Avast antivirus setup automatically detects these versions and upgrades the existing installation to Avast Small Office Protection.
Why isn't Android's built-in antivirus enought?
Android has several built-in security features to protect devices from hackers and malware, but without third-party antivirus protection, they're not enough to protect your employees from all the different kinds of threats out there.


Android can quickly check if apps are safe, but it's not a reliable antivirus solution against new and emerging threats.


Android runs apps in an isolated "sandbox" where they can't access other portions of your employees' devices without their permission. However, many users accidentally give apps more permissions than they need, and this can allow malware to spread across their devices.


Malicious apps sometimes make it onto Google Play, where they're downloaded by thousands of people before they're caught. Unofficial app storefronts are often less secure than Google Play, which increases your employees' risk.


Your employees will always be safer with specialized antivirus software like Avast on their Android devices. It'll detect and block malware before it can infect their device, and if they're already dealing with an issue, Avast will remove the malware from their Android device and prevent future infections.