Avast Small Business Cybersecurity Solutions
Get online protection you can trust from one of the leaders in cybersecurity. Choose the level of protection that works best for your business.
Compare our security products

Avast Essential Business Security


Avast Premium Business Security


Avast Ultimate Business Security

Online management platform
Manage your devices, Avast security services, and their subscriptions from your web browser - anytime, anywhere.
Next-gen Endpoint Protection
Award-winning¹ next-gen antivirus with multiple layers of protection helps secure your Windows™ PC, Mac®, and Windows™ Server against infections from malicious files, emails, and websites.
Ransomware & On-device Data Breach Protection
Protect your business and customer data from ransomware encryption, theft, or leakage with our Firewall, Ransomware Shield, Remote Access Shield, and network discovery tools.
Password Protection helps safeguard your employees' login information stored in web browsers from being stolen and misused.
24/5 English support from our highly trained technical team, who can assist you and your employees via email, chat, or phone.
Fake Website and Phishing Protection
Real Site supports safer web browsing and banking by helping you avoid fake websites that steal login credentials or credit card information.
VPN for Online Privacy on Public Wi-Fi2
Built-in personal VPN with no data limits encrypts your data traffic over the internet to help protect your employees' data, making them also private when using public Wi-Fi networks.
Prevent employees from using unauthorized removable storage devices, including flash drives, external drives, and memory cards to avoid data theft, data loss, and malware infections.
System & Application Patching2,3
Automatically fixes vulnerabilities in your system and third-party applications that are susceptible to cyberattacks.
Get the security you deserve
All businesses deserve to be safe online, regardless of size. Let Avast keep hackers away so that you can focus on growing your business.
The essential online protection you can't go without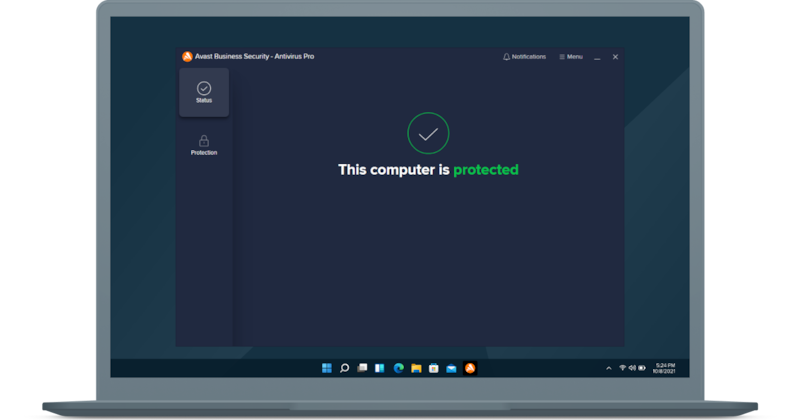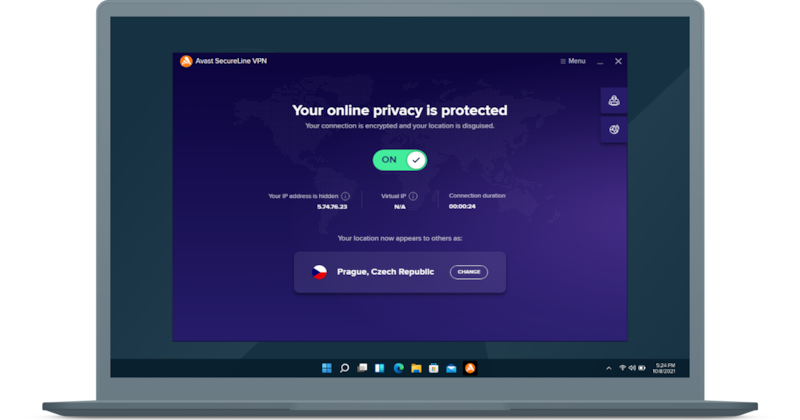 The premium online protection and privacy your employees deserve
The ultimate online protection and automation your business needs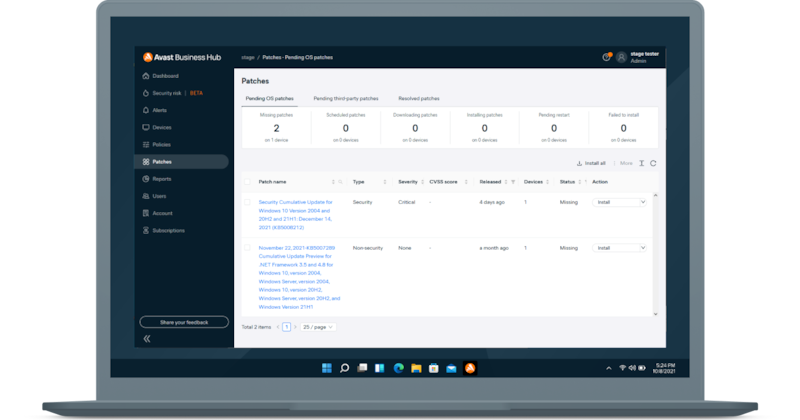 I have a small business with just a few computers. Can i install Avast free consumer antivirus on those computers instead?
If you're a business that handles client data and has servers, then you need more than what our free consumer antivirus offers. Avast Business solutions offer advanced security, privacy, and productivity features to give your employees total digital privacy, security, and unparalleled productivity. They also come with an online management platform to provide real-time visibility of threats, comprehensive reporting, and remote management capabilities from a single platform.
Avast free consumer antivirus, Avast One, or Premium Security are intended for private, personal, and non-commercial use only. If you would like to use Avast in a business, commercial, non-profit, or government organization, we recommend trying Avast Business solutions.
For more information, please review our Avast End-User License Agreement (EULA).
How do Avast Business solutions protect businesses against cyberthreats?
All our products include our next-generation antivirus for businesses designed to prevent, search for, detect, and remove malware, and other malicious software (worms, trojans, adware, spyware, and more). We protect millions of businesses worldwide by using the industry's best prevention, detection, blocking capabilities, machine learning, advanced heuristics, advanced anti-exploit, and other Avast proprietary techniques.
To protect users, Avast detects and immediately reports any suspicious files or behavior. This state-of-the-art infrastructure and access to an immense amount of security data gathered from hundreds of millions of devices around the globe gives us one of the largest, most advanced threat detection networks in the world, and lets us provide unrivaled zero-day protection.
Our cutting-edge technology transforms our users into a worldwide network of cooperating sensors. If any one of them encounters malware, Avast uses 6 layers of protection to identify, block, and inform the entire network in a matter of seconds.
For the Essential and Premium packages, the online management platform is optional. You can choose to install the solution on each device independently without management capabilities. However, our online management platform, the Avast Business Hub, allows you to manage all your devices from one place. It provides robust reporting, alerting, device and policy management, network discovery, remote access and support tools, and more. As your business grows and security needs change, the Avast Business Hub allows you to get other services such as Patch Management and Cloud Backup, and manage all your Avast solutions from one platform. For the Ultimate package, the online management platform is required. Avast Patch Management is only available as a managed product.
No, they are only available with our online management platform, the Avast Business Hub.
Is patch Management available for Windows and macOS?
At the moment, it is only available for Windows. Patch Management system requirements:
10, 8.x, 7 SP1 — requires KB3033929 — x64, x86
Server 2019, 2016, 2012 — any edition with latest Service Pack excluding Server Core — x64
Server 2008 R2 — requires KB3033929 — x64
Exchange Server 2016, 2013, 2010 SP2 — x64
What are the Avast Business Hub system requirements?
The following browsers are supported by our online management platform, the Avast Business Hub (latest versions recommended):
Google Chrome
Firefox
Safari
Microsoft Edge
Do small businesses need cybersecurity?
Yes, all businesses need cybersecurity, including small businesses. Since many small businesses tend to have less resources to develop robust protection against complex cyberthreats, they unfortunately become frequent targets of cybercriminals. According to the U.S. National Cyber Security Alliance, 60% of small businesses that are victims of a cyberattack go out of business within six months. At Avast, we deliver solutions that will protect your small businesses from cyberthreats so that you don't have to worry about losing what you've worked so hard to build.
Which companies need cybersecurity?
Any company that operates online in any capacity, whether primarily or partially, needs cybersecurity. Although industries such as healthcare, finance, and government tend to require stronger cybersecurity due to highly sensitive information being handled, the reality is that every business should have some form of cybersecurity in place. In the past, having onsite security for offices might have been enough, but now that more businesses are operating online due to increased remote work and digital transformation, protection against cyberthreats is an incredibly important part of ensuring that your business continues operating smoothly and securely.